Contact Information
It's not a Fiesta until the Mariachi shows up!!
Mariachi Patron Introduction in English
Mariachi Patron Introduccion en Español
Desperado
Acoustic Mood Music Sleepwalker
Una Paloma Blanca
Mexican Hat Dance/Jarabe Tapatio
Estos Celos
Son de la Negra with full band
6 Piece Group No Me Se Rajar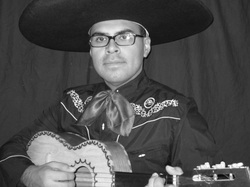 Mariachi Patron has been performing in Las Vegas since 1997. But we play much more than Mariachi music. We represent a network of the best Mariachi and South American musicians in Las Vegas. Our repertoire includes latin dance music, romantic boleros, south american music, Santana, etc... making us more versatile than your traditional Mariachi band.
Available for parties, birthdays, quinceañeras, weddings (or divorces) :), or any occasion. Hiring a live Mariachi band is an investment that will make your next event unforgettable. Trio Romantico and Instrumental Acoustic Mood Music also available.


Viva la instrumentacion unica, los ritmos alegres y las melodias romanticas de la musica autentica Mexicana!! Somos puntuales, profesionales y limpios con decadas de experiencia. Disponibles para fiestas, cumpleaños, quinceañeras, bodas( o divorcios) :), o cualquier ocasion. Contrate a un Mariachi para tocar en vivo y haga que su evento sea inolvidable. Trio Romantico tambien disponible.
---
FAQ
Q: What is your repertoire? A: Our repertoire includes 1000's of songs. From traditional Mariachi music to South American dance music, boleros, cumbias, Brazilian, Colombian, Santana etc... That's what makes us different from traditional Mariachi bands. Yes, we play the classics...and so much more! I promise everyone will have a good time!

Q: Do the same musicians go to every performance? A:Mariachi Patron represents a network of the best Mariachi and Trio Romantico musicians in Las Vegas. We have a lot of performances. If we're not available for your event, I will do my best to connect you to another Mariachi band. Every band I send out to an event will be professional, punctual and very talented! I want you to know that if you flatter us with your business we will earn our pay.

Q: How much does it cost to hire you? A: Click on the "Home" Tab for the quote request form. Prices depend on duration and date of the event.

Q: How do I pay you? A: We can accept deposits and full payments by credit card through paypal, cash or check.

Q: How will the Mariachi band be dressed? A: We wear the traditional black Mariachi uniform with silver ornamentation.

Q: What instruments are played in your Mariachi? A: The full Mariachi band includes violin, trumpet, guitars, and guitarron. The Mariachi Trio includes a requinto (lead guitar), strumming guitar, and a guitarron (bass guitar).

Q: I want to hire you as a surprise, how would that work? A: We will call you when we are outside the address, you come out to let us in and we'll walk in playing!

Q: My neighbors are stuck up, How loud is the Mariachi? A: We don't use amplification for small events. We have never been asked to stop playing by a neighbor or police.

Q: You guys where great!! Can I tip you? A: ;)
Click On The Links Below For More Information And Reviews